Click here to see the 1998 schedule!


Hand him the Heisman, and his props!
---

Anyone who is a true Alcorn Braves' fan can't forget Steve 'Air' McNair's skills he displayed on the Reservation for 4 years straight or this familiar tone. My first contact seeing the phenom was at Alcorn State's homecoming game against (I hate to even type these words) Southern University. Air McNair was (and still is) the truth. Mad game for four quarters. Then, the pass. Yes, the infamous pass. He heaved a "Hail Mary" and the Reservation crowd went silent. That was only the beginning for the Mount Olive native.
"II AIR"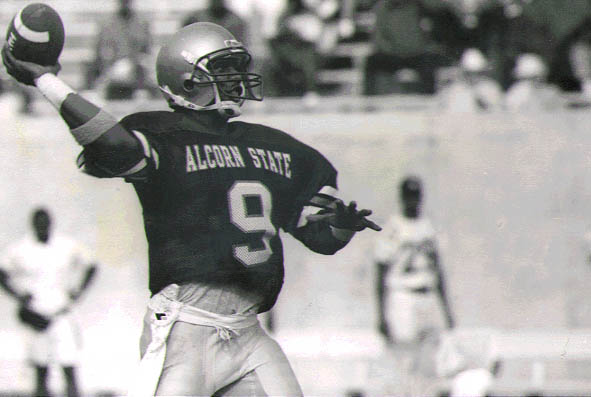 ---
Now, my boy is playing for the Tennessee Oilers.
Click here to visit Air's Official Web site. It's pretty phat.
Click here to see some butta stats.
And click here for some more phat "Air" McNair stats.
And click here to see what other Braves are on NFL teams.
Not only is "Air" McNair talented, he has madskillz on the football field. This guy is the truth. Now that he has Yancey Thigpen to throw it to, he will show he is 'Bout it, 'Bout it.
---
Will's Internet Links
JEFFECO: You have got to check this site out!
Will's Link Stash: A few cool links for you to see.
Alcorn State University: Direct route to the Reservation.
Brave's Guestbook: Sign it! I really appreciate your comments and suggestions.
Braves' Homebase: A quick way to get to the main page.

---
---